Our handling systems use the non-contact ultrasonic bearing to pick and transport sensitive workpieces particularly gently. They can be used in all atmospheric processes and are also suitable for clean room applications.
Using a vibration generator with separate power electronics, a compressed air film with repulsive forces is generated. In combination with attractive forces, e.g. with negative pressure, handling without contact is also possible from above.
Innovative Technology:
Ultrasonic Suspension Technology
The surrounding air or process gas is compressed by the ultrasound. This allows components to be lifted and guided along defined paths without contact. In combination with negative pressure, workpieces can also be gripped on the upper side - without touching them.
The ultrasonic suspension technology requires less energy than other non-contact handling technologies, such as bernoulli-systems (air bearing).
News & Updates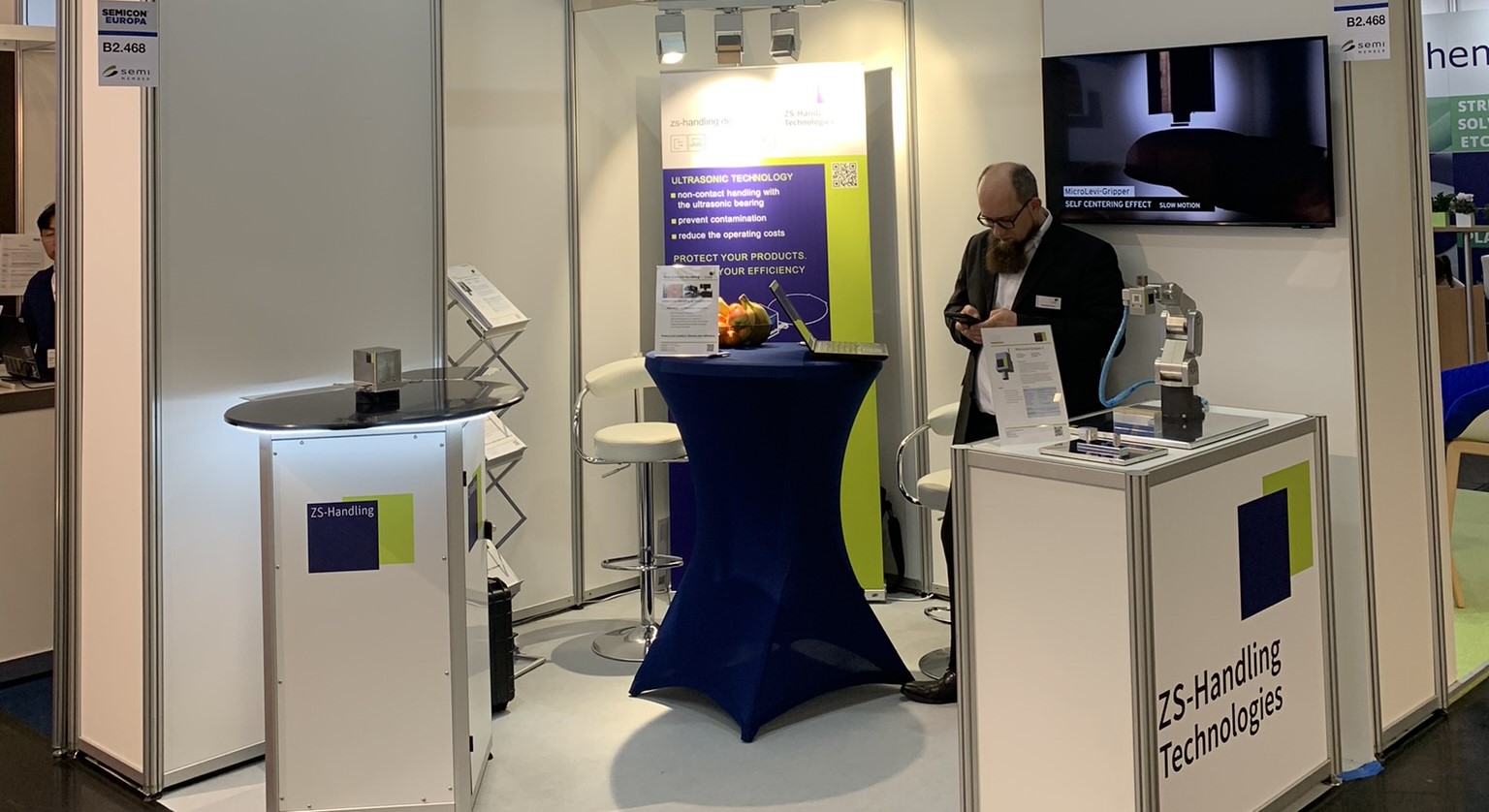 From November 14th to 17th, 2023, Semicon Europa took place in the Munich exhibition halls at the same time as productronica. Trade visitors from all over the world came together at the largest semico...
More Info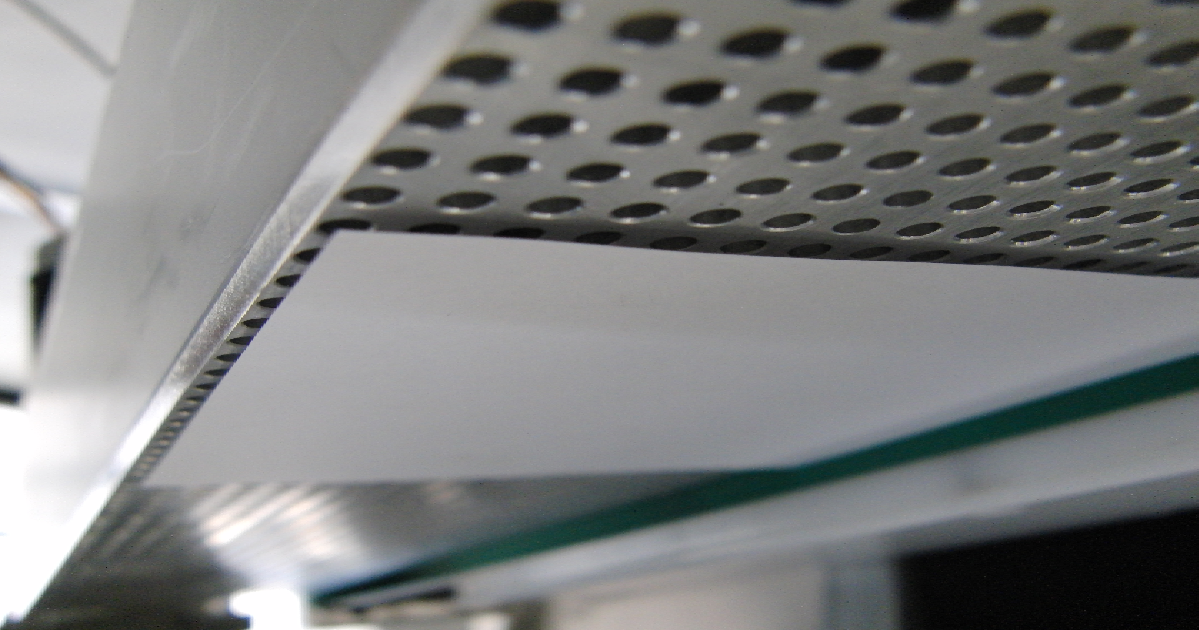 When handling sensitive films, attention must be paid to the sensitive, partly coated surfaces of the substrates. This requires intelligent handling devices that have a low error rate and at the same ...
More Info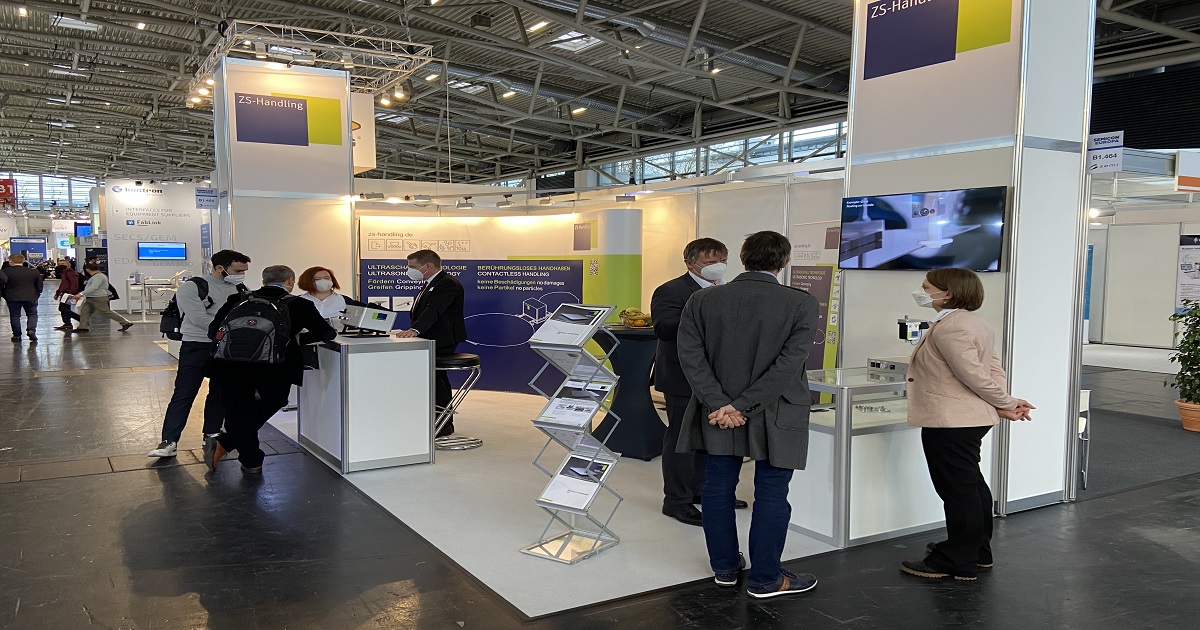 SEMICON took place parallel to productronica at Messe München from 16 to 19 November 2021. Despite the still tense Corona situation, the trade fair was visited by over 20,000 visitors from 70 countri...
More Info
The Advantages of Our Technology
Contactless handling on processed or coated surfaces is also possible from the topside.
No carry-over of impurities and no air turbulences -> significantly reduced risk of contamination.
No compressed air generation with complex and cost-intensive air conditioning required -> reduced energy consumption.
No introduction of mechanical stresses into workpieces -> no micro-scratches, no micro-cracks or other workpiece damages.
High flatness, also on form unstable substrates.
High positioning accuracy.
Easy cleaning and practically maintenance-free -> readout and correction of operating parameters possible during operation.
Suitable for automation solutions and high throughputs.
Can be operated both in air and in any ambient gas, e.g. inert gas.
Suitable for clean rooms (up to cleanroom class ISO 1).
Low life cycle costs (Total-Costs-of-Ownership [TCO]).
Double-sided inspection of substrates possible.
Frequently asked questions
For which applications ultrasonic technology can be successfully used?
Ultrasonic technology is already being used successfully in many industrial sectors. From the contactless handling of solar wafers to the contactless production of interocular lenses, there is a wide range of applications. A detailed list can be found under the
Applications
tab.
However, from experience we know that most of our products need to be customized. Please
contact
our sales team at any time, who will be happy to provide you with advice and support.
What should the substrate look like for contactless handling?
How do I know if my component is suitable for ultrasonic technology?
Is there any hearing impairment when using ultrasound?
Can ultrasonic technology be used in the clean room?
Successful projects - Perfect cooperation